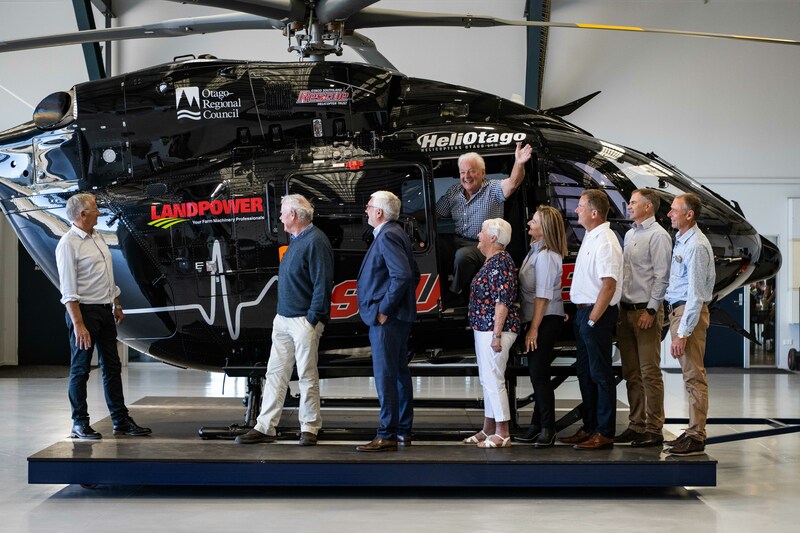 The quick work of the trust has stuck with the founder of agriculture machinery company Landpower, which was yesterday announced as a major sponsor.
Mr Whyte said he had become interested in the work of rescue helicopters when he spent six days in Lakes District Hospital, where his bed looked out over the facility's helipad.
"It really relieved my boredom . . . You thought, 'jeez, there's a hell of a lot of helicopters that come and go," Mr Whyte said.
He and his wife Pam had started their research when their son-in-law had a heart attack at 5am one day in late 2019.
He was taken by ambulance to Lakes District Hospital in Frankton, from where the Otago Southland Rescue Helicopter Trust airlifted him to Dunedin.
By 7.30am, he had been operated on, with stents placed in his heart, and was out of the operating theatre.
"Undoubtedly that saved his life," Mr Whyte said.
Otago Southland Rescue Helicopter Trust trustee Tony Sycamore said the new relationship meant the trust had an opportunity to do more.
Demand for the service had continued to increase apace and each year costs were increasing, but the trust was fortunate to have a huge amount of support which continued to grow.
The rescue helicopter had become an integral part of medical services and made a considerable difference to patient outcomes.
"The difference between a road recovery and a helicopter recovery in the lower South Island is huge," Mr Sycamore said.
The trust could not be happier with its operator, Helicopters Otago, and its goal was to do everything it could to support Mr Gale to deliver the highest-quality service possible.
The trust had been working with Landpower for the past six months and bringing the company into the fold boosted the trust's ability to make decisions going forward.
"It's significant relationship with a great company, and a really generous family," Mr Sycamore said.
The best decisions the trust made were long-term ones, which were enabled by sponsorships.
"Something like this from Landpower is a game changer because it just gives us another level of baseline that we can operate from," Mr Sycamore said.
The new sponsorship was also important as it was the first significant step where the Otago Southland Rescue Helicopter Trust was doing something directly in collaboration with the Lakes District Air Rescue Trust, which would also receive significant sponsorship from Landpower.
"That's a relationship we value greatly," he said.
Mr Whyte congratulated Graeme and Ros Gale, the founders of Helicopters Otago, on the "absolutely brilliant" work they had done in building up the rescue helicopter service.
He described himself and Mrs Whyte as "very, very privileged" to be joining the group of trust sponsors and they had a long-term vision to be part of the organisation, Mr Whyte said.
View original story by Oscar Francis in Otago Daily Times here.
Photos by Joe Allison