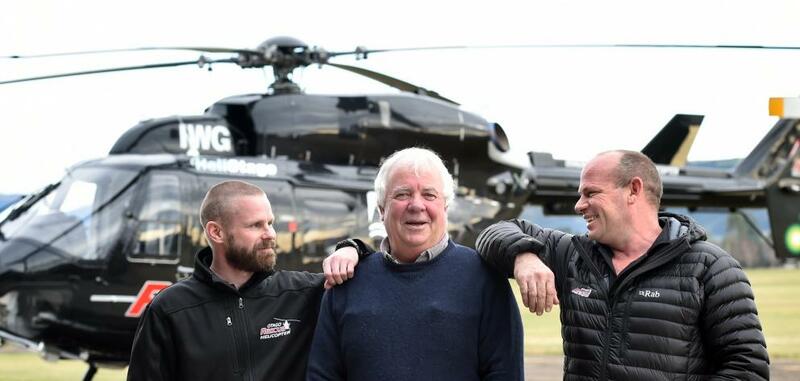 He wanted to ensure a team which had rescued him could continue doing so for others, offering a generous donation to the Otago Rescue Helicopter Trust, in Dunedin, yesterday.
Over the next five years, the trust will receive a total of $50,000 from Mr Johnston and his wife Patsy Johnston — a thank you for ensuring he received live-saving medical treatment. Mr Johnston suffered an aortic aneurysm early in the morning, in September, last year. He was airlifted from Dunstan to Dunedin Hospital by an Otago Rescue Helicopter where he was rushed into surgery, for a three-and-a-half-hour operation.
Five days later, Mr Johnston was able to walk out of hospital, which he put down to receiving medical care so quickly.
"If it was not for this service, at the end of the day, how many people would have died?" he said.
"We think it is such a good thing and are prepared to try to help these guys."
The donation, acknowledged as significant by the trust, would be paid in $10,000 annual installments. But Mr Johnston said if it was not for the economic impacts of Covid-19, he and his family would have happily given more. A reunion yesterday allowed him to talk to two people who attended his emergency call, Otago Rescue Helicopter flight paramedic Craig Didham and Helicopters Otago pilot Kevin Gale.
The pair were grateful for the Johnstons' donation, and said relying on the community it served for funding was a unique situation.
"The significance of that is not lost on us at all; it is amazing," Mr Didham said.
Together, the three of them recalled the events of that day, much of which Mr Johnston said he could not remember. A doctor and nurse from Dunedin Hospital's intensive care unit were also aboard the chopper and helped to stabilise Mr Johnston before it took flight.
"You basically take the ICU to the patient," Mr Gale said.
It was not unusual for the rescue helicopter to attend to a dozen patients on a busy day.
Trust secretary manager Vivienne Seaton said the money would help its life-saving, day-to-day work, across a large and challenging land area.
"We are incredibly grateful; we rely on community support."
She said the trustees were all volunteers and she was hired for only five hours a week — a structure set up to ensure funding went directly to providing the service to the community.