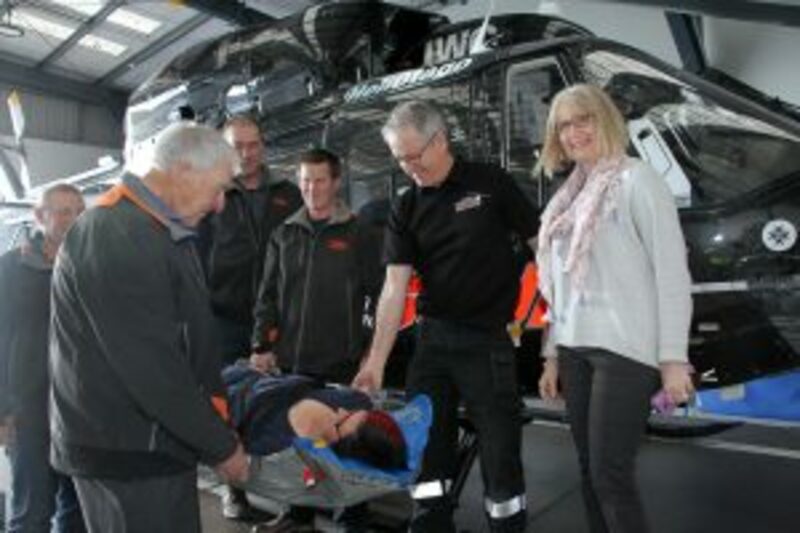 The Clydevale-based hunting and fishing contest donated the money during a visit by its organising committee to the ORHT headquarters at Taieri aerodrome and heliport, near Mosgiel, on Sunday. Committee member Julie Williams said the annual roar had raised the money because the trust was one of the principal charities they supported.
"We don't know where or when we will ever need the service, so it's important to support it.
"Over the years we have done what we can to help outfit the paramedics," she said.
This year the money would be used to re-equip the paramedics' advanced life-support packs. These large packs are carried by paramedics when they arrive at the scene, and contain a wide variety of support equipment and medical drugs.
ORHT chief paramedic Doug Flett said over the years the Valley Roar committee donations had helped buy bone drills, fibre optic airways scopes and a lot of specialist life-saving equipment.
"The next step for the service is to start establishing a simulation suite to improve our clinical training," he said.
ORHT secretary manager Vivienne Seaton said the trust was extremely grateful for the support from the Valley Roar committee.
"We are absolutely reliant on the support of the community and so grateful for the Valley Roar committee's donation," she said.
Pictured: All tied up . . . Finding out how secure the spinal vacuum mattress is was Clydevale based Valley Roar organising committee member Julie Williams during a visit by the committee to the Otago Rescue Helicopter Trust headquarters at Taieri aerodrome near Mosgiel on Sunday. (0707). The annual hunting and fishing contest donated $8000 to the trust to help equip the paramedics with the latest lifesaving equipment. Helping carry her to the helicopter are (from left) Mark Ritchie, Ray Wilson, Darren Wilson, Benji Perry, ORHT chief paramedic Doug Flett and the secretary manager for the ORHT Vivienne Seaton. Photo by John Cosgrove.
Original article by John Cosgrove for the Clutha Leader